Phillip Island Golf Club has long been regarded as one of the finest layouts in regional Victoria. Located walking distance from central Cowes and only metres from the beach, the course carves its way through magnificent landscape. Fairway-6 Superbly manicured greens are a feature of the design. Measuring 6003 meters with a Par of 72, the course will challenge beginners and pro golfers alike. The picturesque course and abundant wildlife add to the pleasure of a round of golf at Phillip Island. The clubhouse at Phillip Island Golf Club is a great place to relax after the round. Featuring an outdoor area with views of the course it is an ideal spot to relax after golf.
Marcus Liberman
Head PGA Teaching Professional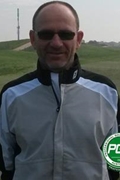 Marcus Liberman has a decade of experience as a Club Professional. Servicing the golf community from club members, visitors, social golfers and the corporate sector. He prides himself on ensuring high quality member and guest service, providing a comprehensive range of merchandise and professional tuition.
34 – 44 Settlement Road, Cowes, Phillip Island, VIC 3922
03 5952 1121
Tuesday

Wednesday

Friday

Saturday

8:00am - 4:00pm

10:00am - 5:30pm

10:00am - 4:00pm

10:00am - 4:00pm